Oxford resident
Jenny Saville
's first UK retrospective is on from today at Modern Art Oxford until the 16th of September 2012; drawing and paintings spanning her ten year career.
the stunning piece of the show, upstairs in the last room
I just popped in to have a quick look while I was in town. Her more recent DRAWINGS occupy the lower (foyer) gallery, while her earlier PAINTINGS are exhibited upstairs in two large and two small rooms.
I've featured
Jenny's work before
here on Free Planet but to see them IN THE FLESH... there's really no preparation for the scale of the impact.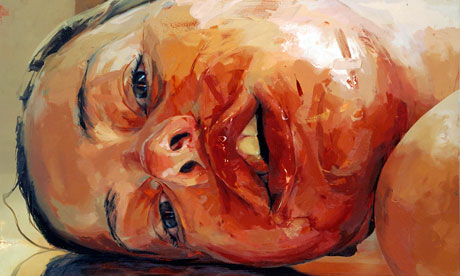 the companion piece to the one above, directly opposite it in the last room
Ashamedly good art. It's a FREE SHOW, i.e no entrance fee, but you'll not be allowed to take ANY photos of the paintings due to Copyright issues with the Private Owners of the works, as I discovered once I tried to get content for what was going to be lovingly-comprehensive in-gallery photo reportage.